Venicones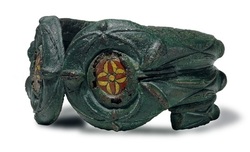 © Trustees of the British Museum
The name Venicones was pronounced "Wen-ichones" and is believed by modern scholars to carry the meaning "Hunting Hounds" or "kindred hounds".

The location of ancient tribes in Scotland is derived from the geographical writings of Ptolemy. From these writings we can determine that the Venicones lived in what is today Tayside. He recorded that their town was 'Orrea'. This has been identified as the Roman fort of Horrea Classis.

* "The Roman army campaigned several times in the territory of this people, but they were never permanently conquered and occupied. The archaeological evidence shows that this people and their northern neighbours, the Taexali, had much in common. The Venicones were one of the few groups in northern Britain at this time that buried their dead in stone lined graves, such graves and cremation burials are very rare in other parts of Britain before the Roman period. Archaeologists suspect many Iron Age peoples often practiced complex funeral rituals in which bodies were naturally allowed to decompose. The Venicones and Taexali also made offerings of prestigious decorated locally made metal objects in bogs and lakes, including massive bronze armlets. Only the Venicones and Taexali wore these unusual ornaments, which could weigh over 1.5 kg each and were worn one on each arm."
* The Preceding paragraph is a direct quote from BBC History - Native Tribes of Britain
http://www.bbc.co.uk/history/ancient/british_prehistory/iron_01.shtml
Twenty of these massive armlets have been found all over North East Scotland an only one other has been discovered outside this location in Ireland. They were typically made out of bronze however a couple have been cast in brass. Some are finely decorated with enamel discs.

_An archaeologist from Britain by the name of Simon James stirred fresh thoughts regarding the Celts when he argued that there was no evidence that large numbers of Celts ever moved to Britain and Ireland. He also states that similarities between the peoples of Britain and the Celts such as language, weapons, forts, and jewellery only shows that they had close ties and not that they were directly related. In 2005 David Miles from Oxford University in England used DNA analysis to show that the people living in Britain today are very similar to those as far back as the hunter gatherers of 12,000 years ago. The DNA was taken from a number of ancient skeletons and was compared with the DNA of modern Britons. There was a remarkable match of more than 80 percent which certainly supports Simons theory. Although they were influenced by the Celts and other invaders over time the natives of this land have continued with deep genetic roots and are a people of their own.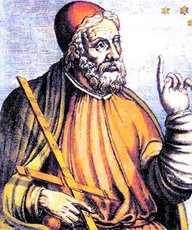 (Ptolemy) Claudius Ptolemaeus
Early Baroque artist's rendition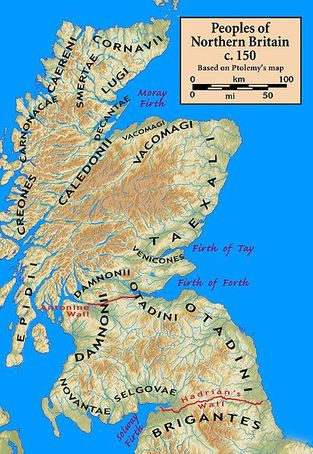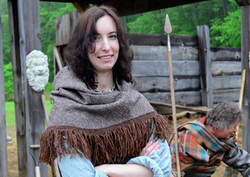 Aleah Paterson
Venicone Chieftan
Head of The Boars Rock organization

---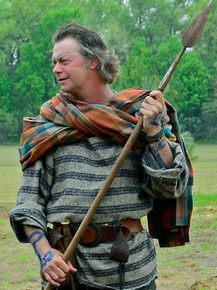 Scott Paterson
The Boars Rock - leading Field Commander


---
Further Reading:

Ptolemy (150), Thayer, Bill, ed., Geographia, Book 2, Chapter 2: Albion island of Britannia
http://www.bbc.co.uk/history/ancient/british_prehistory/iron_01.shtml
Andrew Breeze, Three Celtic names: Venicones, Tuesis and Soutra, Scottish Language (2006)
http://www.britishmuseum.org/explore/highlights/highlight_objects/pe_prb/m/massive_bronze_armlets.aspx
http://www.britishmuseum.org/explore/highlights/highlight_objects/pe_prb/m/massive_brass_armlet.aspx
Jen Green, Bettina Arnold: Ancient Celts, National geographic.
http://www.romanscotland.org.uk/pages/narratives/tribes.asp